Randall & Aubin co-owner Jamie Poulton cycles over 500 km for charity
Here at Randall and Aubin we're not just about having a good time and bringing the party to Soho. Don't get us wrong, we love to let loose, but even those of the most glamorous status have a sensitive side, too.
We want to give back to the great city that we call home, which is why one of the particular organisations that we're dedicated to helping is Greenhouse Sports. This superb initiative is a London-based charity that uses sport to help young people living in the inner city realise their full potential.
We know the power of sport – relationships built through team building; growth of confidence; giving kids an outlet for their emotions; and finding a passion. Greenhouse Sports have coaches that work full-time in schools and the community to provide outstanding programmes to encourage and support those who are at a key stage of growing up. They use the skills of STEP – Social, Thinking, Emotional and Physical – to help equip young people for life.
So what have we been doing to help? Well, all the Raubiners (Randall and Aubiners) gathered around to discuss who would be given the task of raising money for the charity – and a decision was made. With Crabstock in full swing, Ed's apron strings were firmly tied to the kitchen… the waiting staff were deemed too essential to let go of… and so it fell to co-owner Jamie Poulton to get on his bike – very literally – and raise some money.
Not liking to do anything by halves, our Jamie shrugged off the idea of doing your average bike-ride of, say, 200km. Or even 300. No, with the same gusto he uses to approach most things in life, he decided it was go hard or go home. And so, along with CEO Michael de Giorgio and Ben from Quintessentially Foundation, he covered 573km cycling across the Alps between Orange and Nice to raise thousands of pounds for charity.
573KM.
That is like taking one million, seven hundred and nineteen thousand average sized lobsters, laying them end-to-end, and cycling from the outstretched pincers of the first to the delicious splayed tail of the last. At their highest they cycled to the cruising altitude of a Boeing 747. That means that Jamie climbed the equivalent of Mount Everest one and a half times.
This stupendous feat of endurance and saddle-burn was orchestrated by the Quintessentially Foundation and cycle brand Rapha, and saw 60 willing bike-lovers navigate the Côte d'Azur from Orange to Nice via the highest paved road in Europe. From the highest point, you can actually see the curve of the earth!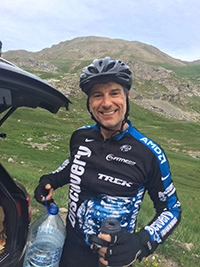 "It was tough," Jamie said on his return, after he had rested, recovered from some of his aches and pains, and enjoyed a rejuvenating glass of champers. "Sometimes it was hellish. I fell over a few times, and on some stretches we were cycling through snow. But during the bleak spots, I spoke to myself sternly and just said 'What would Wiggins do?'."
Jamie spent four days completing this demanding challenge, covering about 130km per day. That's the equivalent of cycling from London to Southampton, every day, for over half a week. And what did they raise after this herculean effort? A staggering £380,000!
So, there we go. Well done Jamie – the whole crew of Raubiners will be basking in your reflected glory for some time to come. Now we have to persuade Ed to do a skydive dressed as a lobster in aid of the Fisherman's Mission….
To learn more about the fantastic work that Greenhouse Sports are doing, visit their site here.
Your privacy is paramount. Randall and Aubin will only divulge your data to third parties in accordance with our Privacy Policy. For more information see Privacy Policy