Peterhead cod and the last of the wild hunters
We're passionately committed to UK seafood at Randall & Aubin and we're determined to ensure that every dish is traceable from "Net to Plate" . Our fishermen deserve respect, and we're proud to say that we enjoy their company, which is why we feel as though their story of perseverance and sustainability is one that deserves to be told.
Throughout the harsh winter months, the abundant populations of fish in the Northern North Sea are harvested sustainably by the fishing vessels of the Scottish fleet, operating from the far-flung, granite-hewn, reaches of the North East Buchan coast. Iconic ports such as Peterhead and Fraserburgh play host to a myriad of craft, all plying their trade on the icy waters between Aberdeenshire and Norway.
Of all the species hunted by these hardy and committed souls, the cod remains synonymous with the UK's preferred "plat du jour", especially when it comes to flavour and versatility. Great news too for the fishermen and consumer alike, as populations in that particular part of coastline are on the increase. This is thanks to conservation measures and good practice, adopted and pioneered by the fishermen themselves, in order to promote sustainability and ensure a viable industry for generations to come.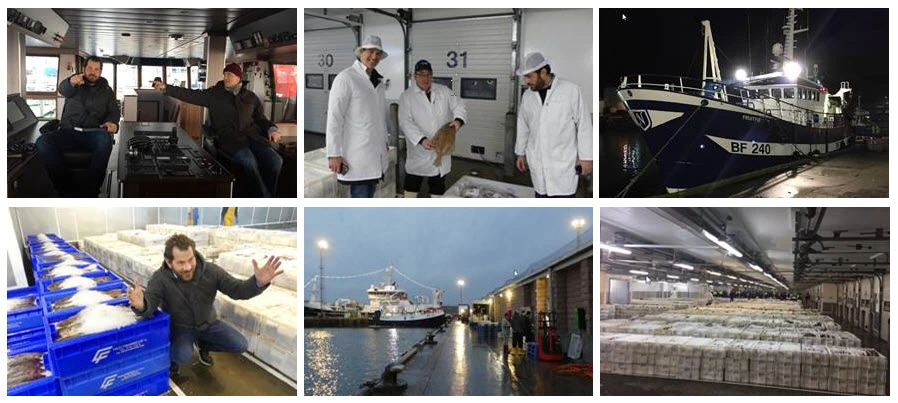 At Randall & Aubin we totally respect the part these "last of the wild hunters" play in bringing seafood to our menu, in what is the UK's most dangerous peacetime occupation. We want to celebrate this incredibly flavoursome and totally traceable fish and share with you its fascinating provenance. We've met the fishermen, we've heard their story and we're keen to share with you what we've seen. Most importantly, however, we want you to taste the results. 
The finest examples of this amazing species seen on the market are caught using the "Scottish Seine Net" – a bit like a trawl net, but without the damage to both fish and environment. We believe that the quality of fish from the "seiners" is matched only by line-caught day boats and the technique is a sustainable and responsible practice.
Our Chef Director, Ed Baines, discovered for himself at Peterhead's Fish Market exactly what great health the North Sea fish stocks are in. Inspired by this, the menu features a range of dishes that showcases the cod in all its splendour. Discover your favourite today by booking a spot, and take a look at the menu before to peruse the offerings.
Ed Baines has also done an informal quick video in the restaurant preparing a dish of Peterhead Cod, with brulee carrots, baby beetroots, pomme mousseline potato and montpellier butter which is absolutely delicious. As always we'd love to do the hard work for you at Randall & Aubin but for you passionate chefs out there let us know how you get on!
A special thank you to Mike Warner for helping us with our mission.
Your privacy is paramount. Randall and Aubin will only divulge your data to third parties in accordance with our Privacy Policy. For more information see Privacy Policy